The Road to Park City (Part II)
Tickets and lines,,, and the opening night world premiere of Levity
Category:
Festivals
Author:
andrew
Date:
17 January 2003
Got up, and went to get tickets for Sundance. I decide to try the SLC outlet as it's closer - and this shows how small a town this is - the sales office is in the same building I had dinner in last night. Their posted schedule is full of sold outs, but I write up 18 films that are still available, getting 16 of them - one of my tickets was the last one available. I learn that tonight's screening of Levity sold out on the very first day - amazing, since Abravanel Hall is the largest venue for the entire fest. The guy selling me tickets says he's always been able to get into a screening through the wait-list and never buys tickets. Still, I drive by to make sure a line isn't forming already.
No such line, so I drive to Park City so I can look around before parking becomes (next to) impossible, and I'm not in a hurry to catch some film on time. There are posters everywhere saying "Pauly Shore is Dead", pushing his film "You'll Never Wiez in This Town Again". Also heavy on the publicity are comic book adaptation American Splendor with Paul Giamatti and Normal with Tom Wilkinson and Jessica Lange.
Also are posters for NYCDance, which looks to be a hasty attempt to showcase New Yorker films that didn't make it into any other festivals here. It's being put together by some folk who are trying to get finishing funds for the digital piece they are showing, Atlantic City Serenade - check out their efforts at http://www.saveourmovie.com. They don't seem to have a venue yet (or at least posted on their site), but have already added a short to play as well. I'll try to check them out if I have a chance. Update: I wrote this bit in the afternoon. I rechecked their site tonight, and they've got two different venues now, the Phat Tire Saloon and the Alpine Internet Cybercafe.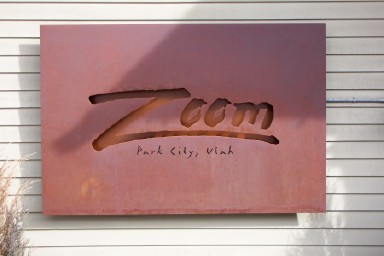 Lunch was at Zoom on Main St, and as I'm doing this solo, I sat at their "Grill seating" which ends up like a cross between a lunch counter and those Japanese restaurants that cook the food right at your table. Having read Anthony Bourdain's Kitchen Confidential, I found it a real treat to watch the skill of the chefs, keeping so many different orders in play, and effortlessly moving between them. I was completely fascinated by this seemingly impromptu arrangement of two skillets, one flipped over on top of the other, and over a high flame. Perhaps the well cultured epicures out there would recognize this technique for steaming clams, but I'm not one of you. Go read Bourdain's book before coming in and sitting at the grill, you'll at least think you recognize some of their moves.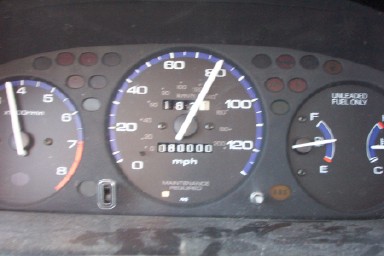 the trifecta: hitting 80k miles at 80mph on I-80
Back to SLC, and after some puttering around town, checking out some of the architecture up close, I finally park and get in the wait list line...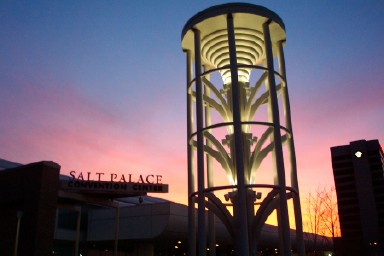 view from the wait list
At five o'clock, I managed to get within the first thirty spots, and then we all waited. The line started moving at 6:45, and getting in wasn't a problem. It got rather cold though, but I feel it's not quite time yet to gripe, as Park City is a lot higher up, and might require some truer grit to bare. Still, I am grateful for having been out early, as I heard later not all the wait-list folk had made it in (the line had grown well past a hundred people before I got my ticket).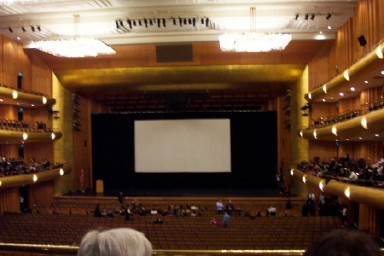 Robert Redford introduced the festival, commenting on how Sundance needed to continue to revitalize itself and stay relevant to independent voices. The message moved to one of freedom, that in this time the most free thing we can do is to allow alternate viewpoints to be heard and not just be tossed away as unpatriotic. Geoff Gilmore, director of the festival kept his comments brief before bestowing a glowing introduction on Ed Solomon, writer/director of the opening night film, Levity.
It is clear that this film was a labor of love for the man, something he says he has been writing his whole adult life. While it's a serious topic, it's clear the title is something Solomon's personality brought to the film, this dark, self-deprecating sense of humor which very purposely lightens up whatever is going on. He lamented that two of the stars were unable to be attend - Kirsten Dunst being on a film shoot that has ran over and she can't get away from, and Billy Bob Thornton is staying in bed on doctor's orders because of a severe bronchial infection. Solomon read a hastily dictated note from Thornton which, to me, sounded like one of the most sincere things I'd ever heard. I briefly wondered if, as a well gifted actor, I have merely embued a sincerity in his words that isn't necessarily there. But in fact, I'm fairly sure that the best actors are so, largely because of their sincerity, not their ability to act sincere.
The film itself is very, very good, with some great acting jobs all around, from those two to the two who showed up - Holly Hunter and Morgran Freeman. I'll put my full thoughts in a review momentarily, but for here, I'll say this. They try to set a tone for the festival with the opening film. It seems like this year they're telling us that serious things are afoot in the world, ones we should not lose touch with, but we also can't lose our sense of humor about the whole thing.